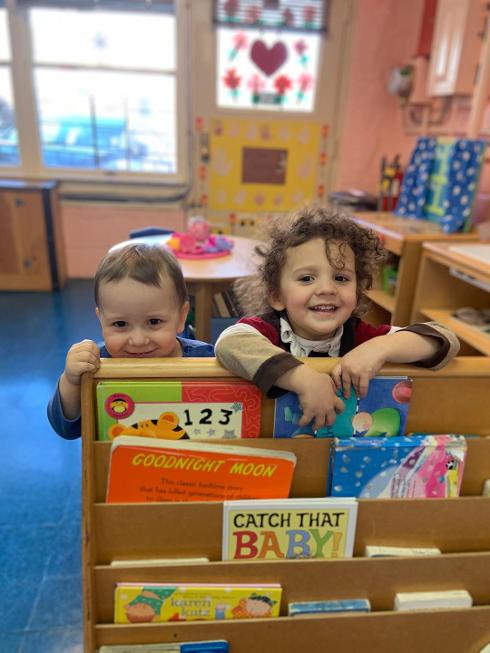 The teachers at Yearling are approachable, caring, and attentive. I feel confident that my children are in a safe learning environment ever day with teachers who will communicate with me regarding every level of my children's development and well-being.
Mrs. Mulhstein
Wonderful, warm, and caring environment. Both of my kids went to Yearling and I had a great level of trust and comfort for the amazing staff- and they left fully prepared for kindergarten. Highly recommended.
Alana E.
Yearling Nursery School was and still is the second home to our children. Emma, 8, attended since she was 15 months ole. Edward 4, since he was 15 months old and is now in full swing. Mrs. Fox, the principal and her staff diligently set the educational base by developing important skills to our children at this early age. We feel lucky privileged and grateful to them for their love of children and their professional support.
Mrs. R. Vargo
Sonny has flourished since his enrollment as an 18month old at the Yearling. Eva, Linda, Genesy, and Mrs. Fox offer such a nurturing and enriching environment to he and his classmates. The activities are varied, interactive, and developmentally appropriate. sonny is moving on to the 3-year-old program next year!
L.C
Eli started to go to the Yearling Nursery School when he was two and a half. He's shy and it usually takes him a long time to adjust and open up, but Eva and Linda's patience, love, and nurturing made him love the school. It feels like our extended family and I enjoy seeing him hug all the teachers and enjoy going to school.
Ms. Siderow
Yearling School is the best thing that ever happened to my kids. All of my 6 children went to the Yearling and this is the best love and education they have ever received. I feel I owe Yearling school so much for all of the love and support they gave my children in their years at the yearling.
Michal Benyamin
My daughter was in the 2s program and we all loved it. Eva, Linda, and Genesy are great teachers and very loving. My daughter's language exploded right after she started there. I know she is in great hands and we will be back next year in the 3s room.
Cynthia Centeno
Ms. Madeline and Ms. Yana have been amazing educators for our daughter. Everyday she learns something new that surprises us: science, math, history...for a 3-year-old girl! Yearling has given us orientation and support as parents and we really feel that Yearling is a second home, a group of professionals that we can trust for our daughter's education and development.
Ms.Torres
"Last October, I felt confident in bringing my 18-month-old baby to the Yearling Nursery School. It has the best plan for handling separation for young children. I immediately loved the classroom. It has wide windows that provide sunlight all day long and a gated playground. As a first-time mother, I observed how the experienced teaching staff dealt with my baby's behavior. She was taught social skills, as well as being provided with affection for those moments when she needed a hug."
Ms. Alayo
"Our Son has attended the Yearling Nursery School for over a year now. We love the warm, nurturing environment the program and teachers offer. He will remain here until kindergarten. We also like that there are other adopted children there."
Rebecca Stone
"Both of my children are attending the Yearling Nursery School. My husband and I are very pleased with the team of teachers, and the care they have given to them.The teachers are caring, loving and truly invested in our children's well being and development. "
Dr. Pinhasi-Vittorio
"The Yearling Nursery School has a safe, warm and nurturing environment. The staff is welcoming and very experienced. We were fortunate to find them!"
Dr. Schwartz
"The Yearling is a small happy family where all the children know each other and have a great connection to their teachers. The teachers are very nurturing. They teach the children the important basics of life. The children are taught respect, love, sharing and patience. They are kept stimulated through reading of stories and learning activities that get them ready for kindergarten.
Thanks to the Yearling teachers, my little one is moving on and seems to be very ready."
F. Samakai